Tips and Tricks for stubborn connections
Depending on your PSA, the Authentication fields vary slightly; however, the troubleshooting steps are consistent for all.
When authenticing, you will see a series of validation checkmarks as we connect and analyze your data.


In the event of an error, you will see caution symbols.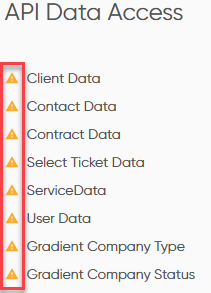 1) Ensure the Public and Private keys are saved in your PSA and imputed correctly without trailing spaces.
2) Confirm the Company ID / User Name
3) For those connections with URL requirements, please ensure the URL is complete. In some cases, the final trailing forward slash is needed.