Service Cards display key information about the service, account, contract, and net profit and revenue.
Overview
Service Cards contain all the valuable insights and information required to reconcile services. With as little as one click, Service Cards allow you to easily view and adjust quantities of services you resell, instantly updating counts in your connected PSA.
A Service Card represents a Contract Line Item (service) in each of your Agreements or Contracts.
If you happen to be a ConnectWise PSA user, you'd be referring to services as additions, whereas if you're a Halo PSA or Accelo PSA user, you'd be referring to them as Recurring Invoice Line Items. Regardless of your PSAs nomenclature, we refer to them simply as services.
Service Card fields and information
Please refer to the screen capture below, as each field is described below by numerical value:
Service
Account (Customer)
Contract
PSA Quantity
Integration or CSV Import Quantity (unit resource adjustment)
Profit and Revenue change per service and service line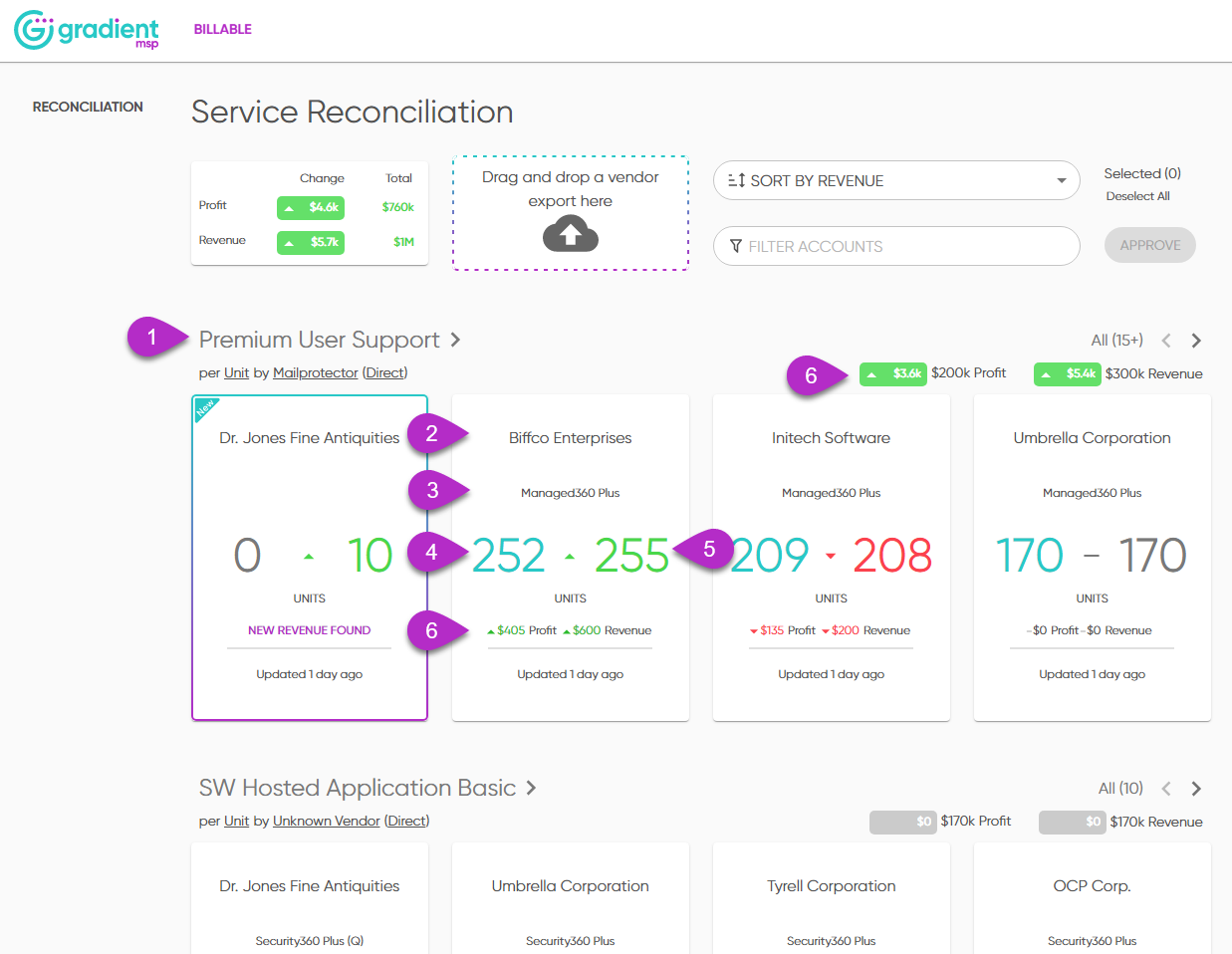 Service Card Types
Once a CSV Import has been completed, you have potentially three different Service Cards.
New Revenue Found
No Change
Reconcile
New Found Revenue
This Service Card indicates there is no record of a service within your connected PSA. You have the ability to Assign to Contract and add this service to an existing contract instantly within your PSA.
No Change
This Service Card indicates there is no change from the units within your PSA. Alternatively, there is no record of any resource adjustments within the CSV vendor export.
Reconcile
This Service Card indicates there are resource adjustments to be made from the quantity currently posted in your PSA and what was imported via the CSV vendor export. This can be either a resource downgrade (red) or a resource upgrade (green).